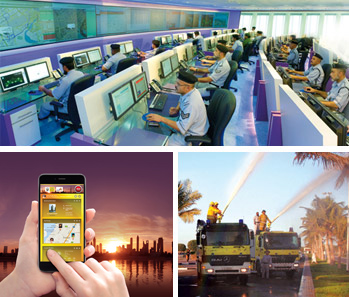 In 2008, Dubai Civil Defence and Pacific Controls together embarked on a unique project to enhance life safety and national security in Dubai, United Arab Emirates, by implementing the 24x7 Direct Alarm System through a 24x7 Command Control Center. On completion of the project, every private and government building within Dubai will be monitored for fire, lift safety, and emergency alarms using state-of-the-art IOT solutions.
Pacific Controls has built a state of the art 24x7 Command Control Center to monitor the facilities around the clock where skilled staff monitors and manages the infrastructure, ensuring robustness, quality service and high uptime. Operating Procedures (SOPs) have been developed and embedded in close consultation with Dubai Civil Defence, to ensure timely integration of buildings, real time monitoring of life safety alarms and seamless sharing of useful information like building location and floor plans with operations team, for an effective and efficient operation.
In Dubai, by implementing the 24x7 Direct Alarm System for monitoring of life safety alarms, the system has achieved accurate, timely and early notification of emergencies. It supports efficient coordination of emergency services, to tackle safety situations and has not only reduced the number of life safety incidents in Dubai but also improved the response time of first responders and overall compliance.
Pacific Controls has also launched series of Dubai Life Safety Dashboards to add more power to Dubai Civil Defence operations, enhancing the organization's capabilities to capture data for better decision-making and organizational performance. Dubai Life Safety Dashboards and Personal Dashboard is a sophisticated way to digitally track and access critical information online that allows decision makers at Civil Defence, building owners, residents and visitors to monitor the life safety status of Dubai in real time and determine their roles, responsibility and accountability in a transparent and dynamic manner. This enables significant transformation in how performance levels and safety standards can be enhanced exponentially by sharing real time information between all the stake holders to act on information and participate in a collaborative manner. The enterprise-class business intelligence delivered through the dashboard will also help all government departments, building owners and residents to monitor their buildings health and safety status in real-time on a great intuitive interface.