BACnet IP + MSTP
Modbus TCP + RTU
Wifi with DHCP server option
Ethernet Router/Hub
3G cellular connectivity
SOX/oBIX BACnet IP connectivity to Niagra framework
oBIX connectivity to Galaxy platform
Histories, alarms and schedules
Runs Galaxy Gbots
Application Framework control engine
Runs optimal control algorithms
Linux OS
G-360 connects remote sites and systems to Galaxy to provide Smart Services. G-360 provides full device to enterprise functionality in a single, low cost package. G-360 connects local measurement and control systems in remote sites to Galaxy, Pacific Control Systems Enterprise Service delivery platform over either 3G Cellular Radio or Direct IP Connection.
Local connections supported are for BACnet – IP or MSTP and Modbus-TCP or RTU so most common measurement and control systems in use in buildings can be connected. The BACnet integration engine in the device provides comprehensive alarming history and time schedule capabilities.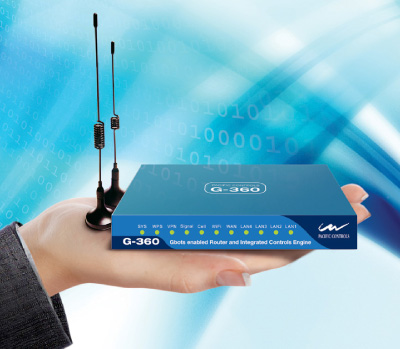 Communication to Galaxy uses the oBIX standard. The main control engine in G-360 is based on the Application Framework. This is configured to run Pacific Control Systems Gbots, the innovative remote service delivery technology that is unique to Pacific Controls Managed Service Business. Integrated Wi-Fi or DHCP server allows wireless PCs and tablets to be readily used to set up and engineer the systems locally as well as through the 3G/IP network.
DHCP uses client/server model for address allocation, providing IP address assignment and other TCP/ IP oriented configuration information. DHCP frees from having manually assign IP address to each client. DHCP environments require a DHCP server set up with the appropriate configuration parameters for the given network. Key DHCP parameters include the range or "pool" of available IP addresses, the correct subnet masks, plus gateway and name server addresses. The end point devices can automatically retrieve IP addresses from DHCP server which means that there is no need to configure these parameters individually for each client device.
For further details, please view our e-brochure.