Press Releases

It's 5:00 a.m. - Do You Know What Your Buildings Are Up To?
Author: Christopher Browne, International Director of Integrated Facilities Management, Jones Lang LaSalle
Jan 19, 2012: It's 5:00 a.m. and all is not well in a data center at the base of the Cascade Mountains outside Seattle. Energy cost overruns and customer service failures are imminent, as an open damper is about to cause equipment to overheat and shut down, depriving thousands of consumers access to customer service. The equipment shutdown could be a serious problem - but instead you and your team are sleeping soundly. Your cloud-based, internationally centralized building management system has identified the anomaly, diagnosed the problem, and adjusted settings to resolve it.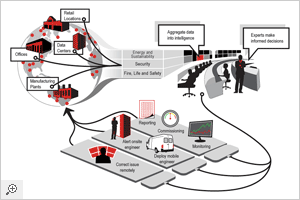 Commercial buildings still have a long way to go when it comes to adopting smarter systems for gathering real-time performance data. However, the real estate industry is making swift progress toward the more widespread use of intelligent off-site facility management systems. As technologntroongimgrs">