Press Releases
Jones Lang LaSalle launches IntelliCommand™ powered by Pacific Controls
The global smart-building cloud-based portfolio management solution, IntelliCommand™ provides 24/7, real-time remote access to control buildings, reduce carbon footprint and energy costs by 18 per cent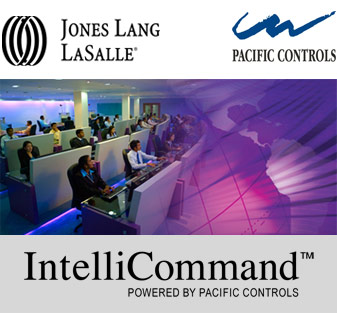 Nov 9, 2011— Jones Lang LaSalle has announced the launch of IntelliCommand™, the industry's first integrated building management solution that combines cloud-based, smart-building technology with a world-class team of engineering and operations professionals to enable 24/7, real-time remote monitoring and control of facilities and portfolios worldwide.
IntelliCommand is powered by Pacific Controls,the leading provider of ICT-enabled managed services and converged engineering solutions for buildings and infrastructure projects globally.
As an industry leader in facility and property management, providing services to more than 250 major corporations totaling 1.8 billion square feet of real estate globally, Jones Lang LaSalle wanted to create a solution that combined smart technology with building operations expertise and facility management execution.
The IntelliCommand portfolio management system leverages leading-edge technology from Pacific Controls to enable 24/7 real-time monitoring and control to deliver seamless solutions for worldwide portfolios from a central location. IntelliCommand's continuous commissioning feature monitors performance of building systems and equipment, from HVAC to air compressors, to ensure that all systems operate at peak efficiency individually and in combination with one another, fully leveraging and integrating Jones Lang LaSalle's robust integrated facilities management delivery platform.
When IntelliCommand detects an anomaly that cannot be automatically adjusted, it alerts on-site engineers or deploys resources to address specific problems, and also often diagnoses the problem to make resolution by facility managers easier and faster.
"IntelliCommand allows companies to achieve unprecedented gains in efficiency and productivity across their portfolios that show up on the bottom line," said Chris Browne, International Director of Integrated Facilities Management (IFM) at Jones Lang LaSalle. "With the advent of so many innovative technological breakthroughs - from cloud computing to robotics - the real estate industry is beginning to take notice of smart-building potential. IntelliCommand is one of the first solutions to fully leverage this power."
"IntelliCommand more than pays for itself in a short time based on energy savings alone, estimated at 18 percent within 18 months of implementation," said Dan Probst, Chairman of Energy and Sustainability Services at Jones Lang LaSalle. "In addition to the cost savings generated, IntelliCommand supports corporate sustainability goals by reporting and reducing the carbon footprint through its ability to measure energy consumption and greenhouse gases in real-time."
To watch a video of
IntelliCommand at work
Your buildings are talking…are you listening?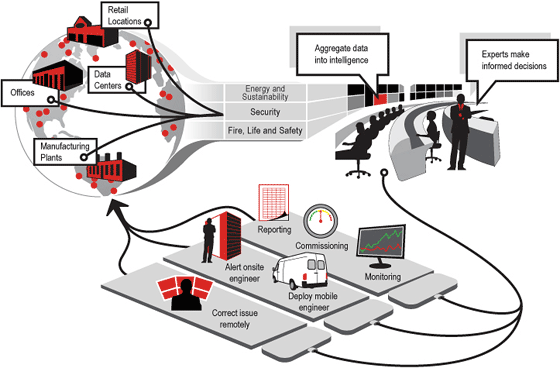 IntelliCommand gives a voice to each facility so that buildings can help eliminate their own inefficiencies. Direct benefits include significantly reduced energy costs, lower facility management costs over time, faster response times to facility issues and enhanced control over information for strategic planning purposes.
How it works:
Identifies anomalies in building systems that might otherwise go unnoticed until they become significant expenses.
Provides continuous commissioning by constantly monitoring all systems to ensure they are within pa