Press Releases
Embedded M2M solutions - Pacific Controls Galaxy: The city center for mobile embedded M2M ecosystems
Jan 31, 2012 - There is no denying that embedded machine-to-machine (M2M) solutions are becoming increasingly pervasive. It is also clear that enabling mobile operators to profit from this M2M proliferation through an active role in robust ecosystems is critical to industry success. Pacific Controls, a leading global provider of embedded M2M solutions is already showing the value that can be delivered through such ecosystems which leverage the assets and expertise of mobile partners.
Pacific Controls' flagship Galaxy Enterprise City Management Platform is an integrated managed services delivery platform. The company says it is the world's first enterprise platform delivering city-centric services that facilitate the management of ecosystems comprised of energy, real estate, homeland security, healthcare, hospitality, transportation, education, financial, industrial and retail participants.
Galaxy integrates with management information systems to deliver optimization and governance-centric data. This enables cost reductions for city operations and its services through increased operational efficiencies and peculation of real time data to the relevant decision makers.
Dilip Rahulan, Executive Chairman of Pacific Controls, recently shared with TMCnet views on the value of Galaxy, the importance of mobility partners and the building of ecosystems, and what is in store for the future of embedded M2M.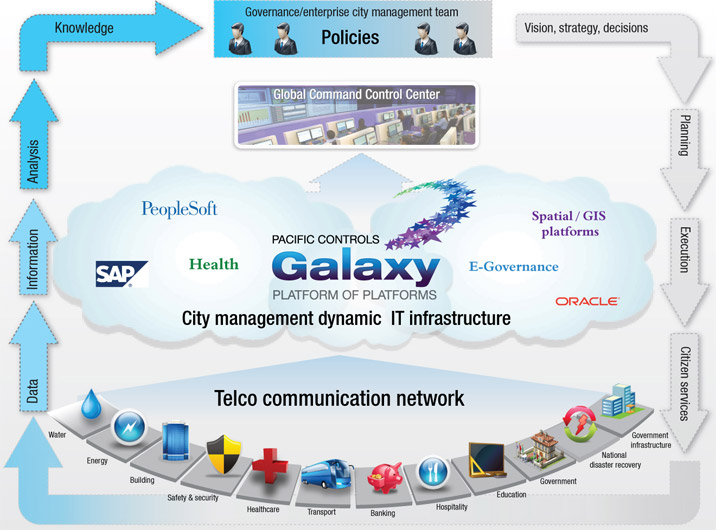 A Galaxy of capability and opportunity
As Rahulan says, "The Galaxy platform is designed to cope with global portfolio management of thousands of assets when there is a compelling demand to have a sustainable, scalable and elastic platform." It is cloud-based and offers a variety of solutions to monitor, manage and control devices and infrastructure at any location in the world. The criticality of mobile networks is that they are the transport of choice for interactions with M2M devices in real time. They literally are the critical link in the monitoring and control of device performance. The platform uses artificial intelligence to analyze the data and pro-actively take action based on this analysis, minimizing human intervention.
Because of the number of existing and potential M2M devices in a city's operations and services, and all of the ecosystem touch points, Galaxy can manage enormous volumes of data and perform intelligent data mining to ensure users can extract the maximum information from this data. Rahulan highlighted how the platform operates and its value saying, "Data becomes visible, transparent, and verifiable; users can take control of services that affect them, empowering citizens and employees. The platform is interoperable with any data source, and allows decision makers and managers to have vital information at their fingertips, at the right level of detail."
Gbots, a unique capability for leveraging smarts to automate processes and reduce costs
A unique and key part of Galaxy's ability to deliver valuable information, improve performance and dramatically reduce costs is its use of intelligent software robots called Gbots.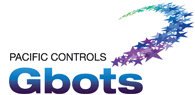 Rahulan describes the value stating, "Gbots can be created by the Galaxy platform and dispatched over the network to run in control systems anywhere in the world... Gbots can learn about systems and their environment, interact with users and take actions on behalf of people, using the knowledge they have acquired. They will always follow procedures correctly and can be mobilized across the network at any time of the day or night."
The value for cities
Galaxy Enterprise City Management Platform can manage all the functions of a city and its buildings as a single eco-system. This means energy, security, transport, finance, education, industry, hospitality and retail facilities, among others, can all benefit from integrated management to reduce inefficiencies and energy consumption.

In fact, Rahulan says, "Galaxy helps to tackle climate change by providing real-time measurement and verification of the carbon footprint of the city and its buildings alongside cost-effective energy management." He added that utility companies in particular can use the platform to create Smart Grids that use the Gbots as grid agents.

Easy to install and complementary to existing systems
Galaxy, as noted, is delivered as a hosted managed services solution to take full advantage of the documented benefits of the cloud. Thus, it is readily available to configure and use in per building configuration and based on requirements. The nice thing is as a hosted services platform it takes a few hours to a couple of days to configure a building.
In addition, it supports open data protocols for establishing connectivity. This makes it possible to work with various systems suppliers irrespective of their makes and model. This means Galaxy can be deployed irrespective of sensors, instruments and integration layers underneath.

As Rahulan says, "Conventionally the role of local controls is to keep the system 'just operated' however there are a heap of advance analytics driven services that can be offered by Galaxy at a different level which doesn't conflict with existing systems."
Valuable analytics
The axiom that "knowledge is power" is an important attribute for platform users. Galaxy has an expert configurable rule engine which captures the knowledge of a human expert by encoding it in to a rule set. Using artificial intelligence (AI) the system is then able to perform like an expert to make decisions and take action automatically in real time. Inbuilt data mining tools can be used to identify patterns in data, and a wide range of data visualization methods are included to assist in planning for the future. Galaxy also includes modules for fraud detection and revenue assurance.
Easy to use
Pacific Controls is proud of Galaxy's ease of use which includes end users being empowered to configure and build their own user interface as per their requirement. Many bells and whistles to facilitate not just ease of use, but ease of training, are employed. Proof can be seen in the screen shot below of a typical user experience.
Galaxy certification programs are provided with structured user role based training which can take from a day to a week's time depending on the level of training requirement.

Tangible savings
In an era of cost-consciousness and eco-sustainability, Rahulan believes the Pacific Controls' approach to making existing facilities smarter is an easy and cost-effective to deploy high-performance state-of-the art capabilities. He notes that Galaxy can take data from existing sensors and control systems, which are collated in the on-site unit and transmitted to one of the Global Command and Control Centers on the Galaxy platform using M2M across the local mobile data network.

What this means is all important to city budgets. The solution for each building connected is designed to the target of paying back the investment within three years or less. Pacific Controls' experts monitor the energy performance of each building and submit monthly reports on savings achieved that include recommendations for investment to reduce carbon footprint even further.
Pacific Controls is actively working with its embedded M@M solutions partner Sprint on solutions for evolving ecosystems that are enabled through the intelligent deployment of M2M solutions that maximize the power and utility of mobile networks.
In this case the city may be first, but the application for solutions such as the Galaxy platform are something all sectors of embedded M2M are likely to turn to in the next few years.
Peter Bernstein
Senior Editor,
TMCnet