Press Releases
Embedded M2M solutions - Pacific Controls Galaxy: The city center for mobile embedded M2M ecosystems
Jan 31, 2012 - There is no denying that embedded machine-to-machine (M2M) solutions are becoming increasingly pervasive. It is also clear that enabling mobile operators to profit from this M2M proliferation through an active role in robust ecosystems is critical to industry success. Pacific Controls, a leading global provider of embedded M2M solutions is already showing the value that can be delivered through such ecosystems which leverage the assets and expertise of mobile partners.
Pacific Controls' flagship Galaxy Enterprise City Management Platform is an integrated managed services delivery platform. The company says it is the world's first enterprise platform delivering city-centric services that facilitate the management of ecosystems comprised of energy, real estate, homeland security, healthcare, hospitality, transportation, education, financial, industrial and retail participants.
Galaxy integrates with management information systems to deliver optimization and governance-centric data. This enables cost reductions for city operations and its services through increased operational efficiencies and peculation of real time data to the relevant decision makers.
Dilip Rahulan, Executive Chairman of Pacific Controls, recently shared with TMCnet views on the value of Galaxy, the importance of mobility partners and the building of ecosystems, and what is in store for the future of embedded M2M.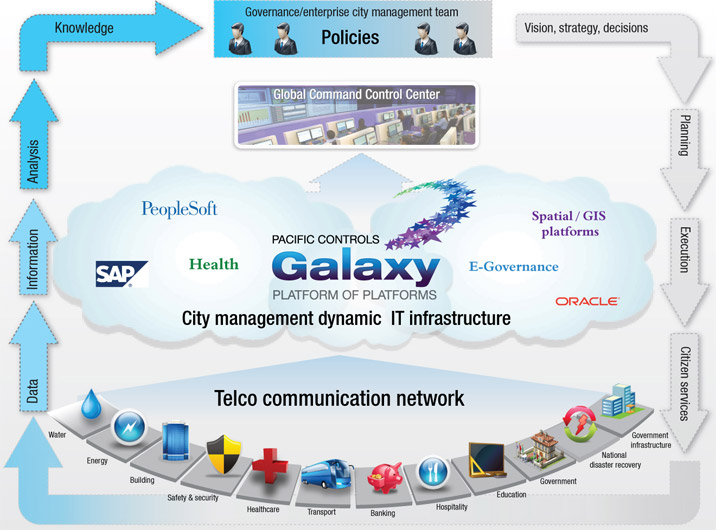 A Galaxy of capability and opportunity
As Rahulan says, "The Galaxy platform is designed to cope with global portfolio management of thousands of assets when there is a compelling demand to have a sustainable, scalable and elastic platform." It is cloud-based and offers a variety of solutions to monitor, manage and control devices and infrastructure at any location in the world. The criticality of mobile networks is that they are the transport of choice for interactions with M2M devices in real time. They literally are the critical link in the monitoring and control of device performance. The platform uses artificial intelligence to analyze the data and pro-actively take action based on this analysis, minimizing human intervention.
Because of the number of existing and potential M2M devices in a city's operations and services, and all of the ecosystem touch points, Galaxy can manage enormous x pos="col-sm-10"> Becausep>Because o