Press Releases
Utilities: Time to get ready for the smart buildings wave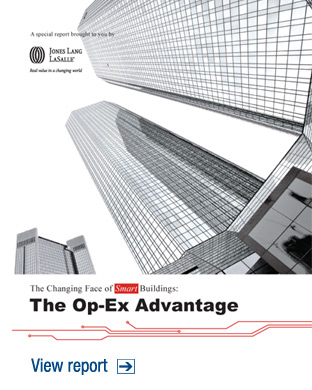 Quick Take: As if utilities didn't already have enough to prepare for -- distributed generation, electric vehicles, fuel switching to natural gas, customer engagement, intermittent renewables, etc., etc. -- a burgeoning smart buildings trend is sending another wave of change their way.
Smart buildings have been around for a long time of course. And so has the idea of hooking them up to the smart grid for load control and demand response (DR). But now the real estate industry has woken up to the possibilities. Now building owners (and the consultants who serve them) are proactively seeking to tap into new revenue streams by connecting to the smart grid.
DR is one such revenue stream. And so, in theory, is the idea of generating power onsite to sell to utilities. As evidence that your commercial customers will soon be seeking to partner with their utilities, I can cite this recent article at GreenBiz.com. Dan Probst is the chairman of Energy and Sustainability Services for Jones Lang LaSalle, one of the world's largest real estate firms. The fact that a global real estate leader is trumpeting this cause suggests that more and more of your commercial customers will be expecting their local utility to have a program ready for them. - Jesse Berst
Thanks to smart grid and smart building technologies, the relationship between utilities and buildings is shifting. It is moving from a one-way relationship – utilities produce energy and buildings consume it – to a two-way relationship, whereby buildings generate electricity on-site and sell it back to the utilities.
A new report from Jones Lang LaSalle explains the new level of interconnectivity between smart buildings and smart grids. For instance, new technologies now enable utilities to offer automated DR programs.
Commercial buildings present a significant opportunity to reduce peak loads. According to a recent study by the Electric Power Research Institute (EPRI), the smart grid / smart building link will create an new landscape in which "commercial buildings are increasingly able to provide a range of grid-supportive functions." EPRI predicts "an increasing portion of commercial and industrial customers will be able and willing to contribute services to the grid."
Vital Connection #5 When it comes to smart grid security, what – specifically - are you protecting, who are you protecting it from, and what safeguards are needed to ensure protection. Learn how to achieve the three ultimate goals of safe information access.
A growing number of buildings are smart, with computer-controlled systems for heating, cooling and lighting. In the growing number of utilities have invested in smart grid technologies. Even so, few utilities have the Capacity for two-way interaction with smart buildings.
Roll your own power
And some buildings are already self powered, at least part of the time. For instance, Walgreens opened its first net-zero store in March 2013. It uses solar, wind and geothermal energy along with high-efficiency appliances and lights. It accesses municipal power when needed. Eventually larger smart buildings with excess energy will be able to provide services to regional transmission organizations such as PJM interconnection.
"The U.S. commercial and industrial real estate sector alone consumes between $179 billion and $202 billion in energy annually," Probst explains. "Harnessing smart systems for grid interaction presents a historic opportunity to significantly reduce the energy consumed by cities, ultimately affecting the way people around the globe use energy."
Jesse Berst is the founder and Chief Analyst of SGN and Chairman of the Smart Cities Council, an industry coalition.
SmartGridNews.com
February 12, 2014