Press Releases
Pacific Controls launches Lighting Excellence
Featuring the elegant Touch Control, Lighting Excellence is a sophisticated lighting solution for both home and office.
Dubai, February 17, 2004: Pacific Controls has launched "Lighting Excellence", an exclusive lighting control solution designed for the modern home or office at the recently concluded PALME 2004. The new solution features the Touch Control, an elegant multifunctional touch panel that replaces traditional light switches.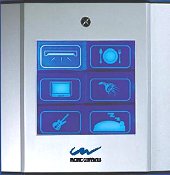 Pacific Controls' Lighting Excellence is a standalone lighting solution that can be integrated into a Web-enabled Home Automation package. Lighting Excellence blends functionality and style, providing the capacity to design spaces for multiple functions through the use of different lighting scenes. These lighting scenes use an optimum combination of light types and intensities to create the desired ambience in a room that matches any occasion, mood or activity. Scene setting is accomplished through the stylish Touch Control, which replaces traditional light switches.
The Touch Control eliminates the tedious task of setting the home atmosphere just right for daily activities, bedtime or special occasions. The living room can be instantly transformed from a brightly lit reading scene to a dimmed home theatre scene while the dining room can have separate one-touch setting for dinner parties or romantic meals.
The Touch Control faceplates feature distinct icons on the keys that describe their application. Multiple functions can be performed with a single touch, allowing the user to group similar tasks and complete them simultaneously. The versatility of the Touch Control extends beyond lighting to the control of audio-video devices and electric motors. This implies that the user can incorporate functions such as opening or closing curtains, blinds and shutters, raising or lowering projection screens, turning on projectors, DVD players and even fountains into one touch applications. For example, to retire for the evening, the user only need touch a single button to close the curtains, turn on his security lights in the garden, switch off his fountain and light the way to the bedroom. In the office, a single touch turns on the projector, lowers the projection screen and dims the lights, preparing the conference room for a presentation.
The Touch Control has a sleek and futuristic design that includes an illuminated cool-blue backlight at night for easy access. The programmable keys can be assigned for endless number of functions that can be used to control individual or groups of lights as well as single or multiple dimmers. The keys light up and stay illuminated when touched, also allowing the user to control and monitor lights in one room from another.
For further information please contact:
Beena Abraham
Corporate Communications
Pacific Control Systems LLC
Tel: +971 4 886 9000
Fax: +971 4 886 9001
Email: beena@pacificcontrols.net