Press Releases
Pacific Controls launches world's most advanced e-Home Terminal
Dubai, February 24, 2004: Pacific Controls has chosen PALME 2004 to launch its exciting new product, the e-Home Terminal, which was developed by the company for their Web-enabled Home Automation solution. Preloaded with Pacific Controls Home Automation software, the e-Home terminal facilitates the integration of air-conditioning control, camera surveillance, security monitoring, video door phone, home theatre control, lighting control, utilities monitoring and all the offerings of the Internet.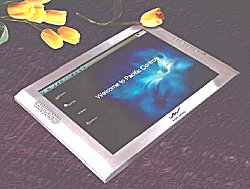 Pacific Controls' CEO and Chairman, Dilip Rahulan said that the company is extremely proud to launch its very own product. "The e-Home Terminal is more than just a touch screen," Rahulan said. "It is a very unique product that integrates all the functions of the home, allowing you to view and control your home from anywhere in the world."
The e-Home Terminal incorporates every aspect of home automation through a single interface, an elegant 15-inch colour touch screen display. Its sleek and stylish design makes it a complementary feature for any modern home while its excellent functionality and user-friendly touch interface makes it simple to use for a wide variety of applications. For example, the e-Home Terminal provides a one-touch function that sets up a home theatre from drawing the curtains and dimming the lights, to lowering the projection screen and turning on the projector. The e-Home Terminal also has one-touch functions to activate preset lighting scenes for different occasions, and to simultaneously set all the air-conditioning units at a higher temperature for energy savings while the residents leave home.
The e-Home Terminal also provides many applications for security including provisions to arm or disarm the security system as well as an integrated video door phone allowing the user to view and communicate with visitors arriving at the front gate. Another security feature of the e-Home Terminal is the ability to view camera surveillance of selected areas within your premises, particularly useful for keeping an eye on the children playing outside near the swimming pool. The e-Home Terminal also incorporates unique features like emergency button, virtual keypad button, door open button etc.
Equipped with secure Internet connectivity, Pacific Controls' e-Home Terminal puts a wide range of capabilities at your fingertips. From business activities such as checking the latest stock prices, currency rates and traffic reports to leisure activities such as enjoying interactive media, audio-video streaming and online shopping, the e-Home Terminal puts the benefits of the Internet within easy reach.
The e-Home Terminal combines simplicity, elegance, functionality and style in a single system.
For further information please contact:
Beena Abraham
Corporate Communications
Pacific Control Systems LLC
Tel: +971 4 886 9000
Fax: +971 4 886 9001
Email: beena@pacificcontrols.net