Press Releases
Pacific Controls to launch the worlds first Enterprise City Management Platform at Realcomm 2010 - Las Vegas 8-10 June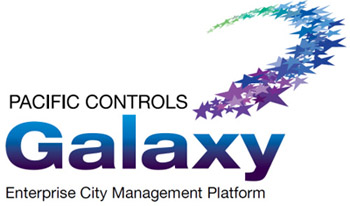 Galaxy is the worlds first enterprise platform delivering city centric services for management of its ecosystem comprising of energy, real estate, homeland security, healthcare, hospitality ,transportation, education, financial, industrial and retail.
Galaxy will integrate with Management Information Systems to deliver optimization and governance centric data that will enable cost reduction of operating a city and its services through increased operational efficiencies and peculation of real time data to the relevant decision makers in the city.
Building Owners, Contractors, Real-estate companies, Government entities, and infrastructure owners like Utilities , Airports, Telcos can collaborate and leverage the resources of the Pacific Controls Command Control Centre to optimize their operations, reduce their service costs, increase their return on assets and have the capability to remotely manage them in real time.
Galaxy offers modularity in application components. The framework is flexible, scalable and elastic to add on or trim down the functionality based on Business Process and Key Performance Indicators around the ecosystem. The Application layer of Galaxy is designed to deal with a range of services and it acts as a single point framework to deliver a unique proposition of services in a managed service delivery model.

Pacific controls will host galaxy on it private cloud that will enable any asset owner anywhere in the world to subscribe to the managed services offering in a cost effective manner. Multinational Organizations will be able to leverage the pacific controls cloud to manage its business process and assets globally on a single platform.
The Pacific Controls Command Control Center is a new paradigm in city management and delivers collaborative solutions using ICT for the city's ecosystem. Pacific Controls Galaxy addresses the challenges of climate change and the management of cities resources by carrying out real time measurement and verification of its Carbon Footprint, converging services horizontally and vertically through the applications of Ubiquitous technology enabling more convenient and quality life, safe and sustainable living environment through continuous and systematic management of the city's ecosystem.
Click here for Galaxy Launch Invitation
About Pacific Control Systems
Pacific Control Systems LLC is an IS0 9001:2008 company providing total automation solution globally. The Dubai-headquartered Pacific Controls has been involved in successfully implementing integrated automation solutions in numerous projects in the government and private sectors. Pacific Controls core strength is in offering comprehensive, innovative solutions in intelligent automation and control systems. Our domain knowledge coupled with technology expertise is continuously being updated and applied to create total automation solutions in commercial, industrial and home infrastructure projects.
The headquarters of Pacific Controls, Middle East is the first Platinum rated green building accredited by the US Green Building Council (USGBC) Leadership in Energy and Environment Design (LEED) programme and sixteenth in the world.
About Realcomm
Realcomm Conference Group, LLC is the world's leading research and educational institution that produces an annual conference and exposition on technology, automated business solutions and intelligent buildings for executives in commercial and corporate real estate. Realcomm was founded in 1999 with the goal of bringing industry leaders together each year to discuss, demonstrate, and debate the latest innovations that impact the industry. Today, in addition to the annual conference, Realcomm conducts seminars, webinars, workshops, executive tours, and other strategic services to educate industry professionals about the latest business solutions and technologies to improve commercial real estate development, leasing, management, and operations.
For further information, please contact:
Jumana Aman
Watermelon PR
Dubai, UAE
Ph: +971 4 2833655
Email: jumana@watermelonme.com