Press Releases
Pacific Controls commits for a 'Greener' Dubai
Dubai, May 17, 2005: Pacific Controls Systems LLC has launched an advertising campaign in the city today with the theme, Our Commitment to Dubai: Intelligent Green Buildings. This campaign is the first in a series of its kind to be launched by Pacific Controls across the United Arab Emirates (UAE), which is targeted at creating awareness on environmental protection and the need to go for solar energy to meet the growing demands.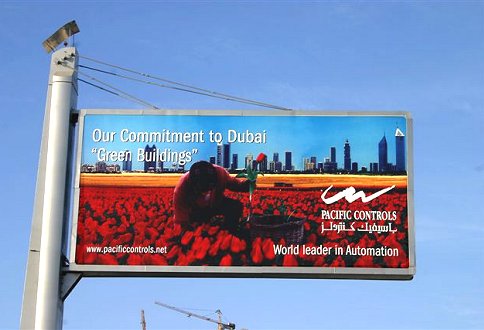 This campaign marks Pacific Controls' participation in line with the Dubai Government's drive in making the Emirate a more clean and green city in the UAE. "Our campaign is aimed at creating awareness on environment conservation, and the need to join hands through a private-public partnership for a green Dubai", said Dilip Rahulan, Chairman & CEO of Pacific Controls Systems LLC.
As part of its "Green" initiatives, Pacific Controls is building the Middle East's first LEED Platinum rated "Green Building" with solar lighting and solar thermal for its fresh air cooling requirement at the Techno Park, Dubai. Spanning an area of over 120,000 sq. ft., the multi-storey Green Building is to become Pacific Controls' Headquarters, which is expected to use solar to meet a sizable amount of its energy requirements for air-conditioning and lighting purposes.
"The rising level of harmful emissions from buildings, automobiles etc. is highly polluting the environment and contributing to global warming. Aligning our business strategies with the Dubai Government's vision for environmental protection, we have taken up the commitment to the Emirate of Dubai for a "Green Building" with LEED Platinum rating, the first-of-its-kind in the Middle East," stated Rahulan. "With the construction and real estate industry booming in the city, it is imperative that we take considerable efforts in conserving our nature. We encourage the people of Dubai, both corporates and the public, to participate in the initiatives taken by the Government towards a more clean and green Dubai, thus making Dubai a haven on the earth to live."
Pacific Controls' commitment to improve the environment in the UAE has led the company to be active in a number of environmental groups, associations and Government sponsored programs. "We have to drive the point that Dubai is the hub, not only for tourism, entertainment and real estate, but also for a comfortable and healthy living. And, by choosing Dubai as the first destination for our global initiative in designing a "Green Building", it has given the most opportune moment for us in creating an environmental awareness to make Dubai a more 'Greener' city," added Rahulan.
For further information please contact:
Beena Abraham
Corporate Communications
Pacific Control Systems LLC
Tel: +971 4 886 9000
Fax: +971 4 886 9001
Email: beena@pacificcontrols.net