Press Releases
PACIFIC CONTROLS IS PLATINUM SPONSOR OF REALCOMM-The 12th Annual Realcomm Conference & Expo, happening June 8-10, 2010 at the Las Vegas Hilton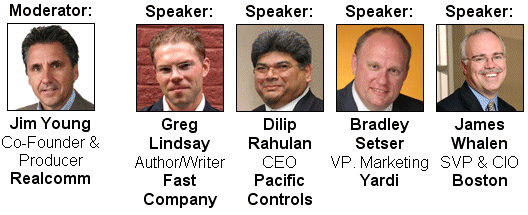 SHOW ME THE ROI!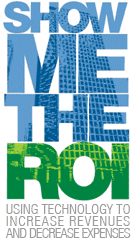 Using Technology to Increase Revenues and Decrease Expenses
Thats our theme this year and its our goal to keep this theme front and center in every education session you attend and every discussion you will have at Realcomm 2010. From CRM to IBS to Green Tech, well focus on ways to implement innovative new solutions with strong economic justification and an ROI that makes sense.
EDUCATION
4 Tracks - 30 Sessions 100+ Speakers
Year after year, our commitment to delivering a dynamic, relevant educational program has helped establish Realcomm as a must attend industry event. Our extensive education program is designed to give BUILDING OWNERS, DEVELOPERS, CIOs/CTOs, PROPERTY MANAGERS, ASSET MANAGERS, FACILITY MANAGERS, and BUILDING ENGINEERS the technology tools they need to positively impact the bottom line of their companies from automating business processes, to general technology solutions specifically for real estate organizations, to smarter green intelligent building technologies.
TECHNOLOGY
Vendor Expo + Intelligent Green Pavilion: If you have even one technology decision to make this year, then don't miss the Realcomm Expo where you will find state-of-the-art technology products and services specifically for the commercial and corporate real estate industry. More than 75 vendors all in one place!
COLLABORATION
Networking Opportunities
Don't miss this chance to discuss and debate the latest technologies, trends and best practices in-depth with visionary leaders and experts in the industry and with other likeminded real estate professionals.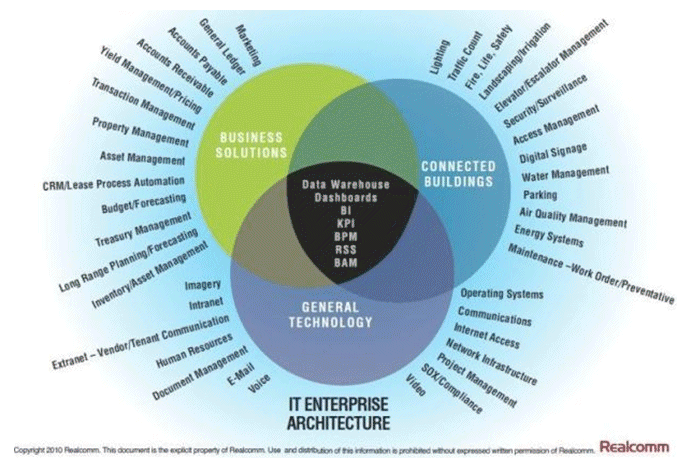 REALCOMM 2010 - Las Vegas: Green Sustainability Pavilion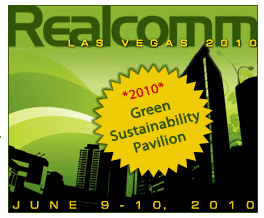 The Green Pavilion is a designated area of the exhibit floor at Realcomm 2010 that will spotlight innovative companies providing energy efficient and green technologies to office buildings. (Floor Plan)
Everyone is thinking about energy management and rightly so. Energy efficiency and reduction of operating expenses should be among the highest priorities for commercial or corporate real estate organizations, given the current economic climate. To address this important topic and present best-of-breed solutions, Realcomm created the Green Sustainability Pavilion, where attendees can learn more about energy saving technologies and identify innovative solutions to take back and implement within their organizations for immediate ROI.
Buildings represent 40-50% of energy consumption in this country, and right now there is a disproportionate effort by businesses to spotlight on things such as emissions, instead of focusing on how to make buildings more intelligent. Its not just about being green and sustainable. Its about using technology to effectively monitor and manage energy consumption, reduce your overall carbon footprint, and implement best global practices for conservation of our natural resources, said Jim Young, president and CEO of Realcomm. "The Green Sustainability Pavilion at Realcomm 2010 will provide attendees the opportunity to learn more about ground-breaking technology solutions that put the intelligence in green!"
The Realcomm 2010 Green Sustainability Pavilion will showcase state-of-the-art products and services (energy consumption software, lighting technologies, HVAC energy management systems, energy metering solutions, carbon management, etc.) and will feature interactive displays and demonstrations from leaders in "smart green" technology solutions.

About Realcomm
Realcomm Conference Group, LLC is the world's leading research and educational institution that produces an annual conference and exposition on technology, automated business solutions and intelligent buildings for executives in commercial and corporate real estate. Realcomm was founded in 1999 with the goal of bringing industry leaders together each year to discuss, demonstrate, and debate the latest innovations that impact the industry. Today, in addition to the annual conference, Realcomm conducts seminars, webinars, workshops, executive tours, and other strategic services to educate industry professionals about the latest business solutions and technologies to improve commercial real estate development, leasing, management, and operations.
About Pacific Control Systems
Pacific Control Systems LLC is an IS0 9001:2008 company providing total automation solution globally. The Dubai-headquartered Pacific Controls has been involved in successfully implementing integrated automation solutions in numerous projects in the government and private sectors. Pacific Controls core strength is in offering compreh