Press Releases
Pacific Controls Systems Receives the 2009 Building Automation & Controls Systems Global Excellence Leadership of the Year Award from Frost & Sullivan.
DUBAI, April 27, 2009: Pacific Controls Systems LLC, the leading global total automation solutions provider, has received the prestigious 2009 Frost & Sullivan Global Excellence Leadership of the Year Award in the automation industry category. The award has been conferred on Pacific Controls for its innovative solutions in building automation and control systems. The company has been recognized for developing various building automation software and hardware, and deploying a Global Control Command Center (GCCC) for the ongoing commissioning of building systems.
Through its disruptive technology implementation, the company has enabled customers to reap the benefits of remote control and integrated automation systems, and maximize the value of time-sensitive information.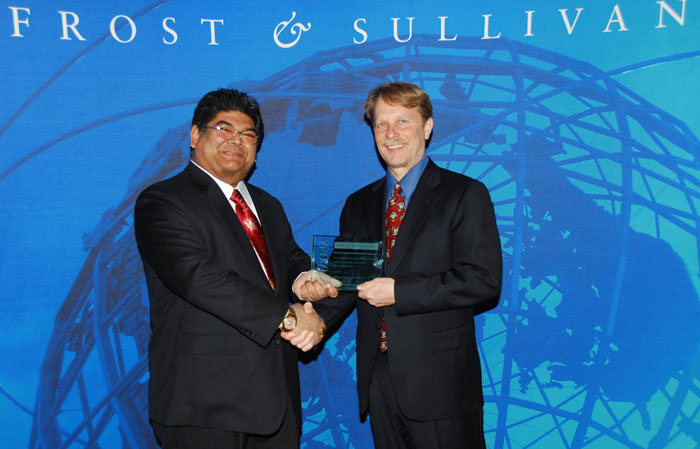 L to R: Mr. Dilip Rahulan, Chairman and CEO, Pacific Controls, receives the 2009 Building Automation & Controls Systems Global Excellence Leadership of the Year Award from Frost & Sullivan.
The Frost & Sullivan Global Excellence of the Year Award is awarded each year to the company which has demonstrated global excellence in a given business function such as sales, marketing, customer service, technology innovation, product quality, supply chain management, and growth strategy. The award was given to Pacific Controls at a dinner banquet held in San Antonio, Texas, USA.
Commenting on the award, Dilip Rahulan, Chairman and CEO, Pacific Controls, said, We are extremely excited about this award. Our aim has always been to provide timely, integrated system information to our customers, so that they can make intelligent decisions regarding their operation and maintenance, and have an implicit logic that effectively evolves with changing user requirements and technology, ensuring continued and improved intelligent operation, maintenance, and optimization.
He further added, We are in a unique position where we have been able to combine technology with services. As part of our corporate social responsibility, it has been our constant endeavor to liaise with local government bodies and private players and work on initiatives that will provide end-users with the means to increase efficiency, generate cost savings, and provide energy savings as well as a lower carbon footprint.
Among its leading services, Pacific Controls offers remote monitoring, energy management, building commissioning, and facilities management services. Pacific Controls services are designed to lower building operating costs by monitoring and controlling energy-intensive systems, such as HVAC and lighting, which can be measured for optimum performance and predictive maintenance needs, reducing both energy usage and operating expense.
Pacific Controls not only has products and services for the whole range of control engineering but also offers the complete integration with the advantages of global networking capabilities. The company produces its own wired and wireless controls and open software solutions supporting multiple protocols for communication between various devices connected to different networks. The hardware business, referred as connectivity products, includes specific remote products, gateway products, and meter reading products.
Pacific Controls enables a high level connectivity over facilities assets, allowing managers and operators to monitor and control each building from a central operations center. The result is more efficient real estate portfolio management, with benefits of optimum efficiency, maximized cost savings, and process improvements. The company's Global Command Control Center has been instrumental in reducing energy consumption in buildings by 20 to 30 percent.
The Frost & Sullivan Global Excellence of the Year Award is bestowed each year upon the company which has demonstrated global excellence in a given business function such as sales, marketing, customer service, technology innovation, product quality, supply chain management, and growth strategy. Leveraging best practices in the company to all global units is a major metric that Frost & Sullivan utilizes in its selection process. Frost & Sullivan, through this exhaustive selection process, seeks to identify a company that has exhibited global excellence in its operations, resulting in sustained financial growth. The Award