Press Releases
Pacific Controls receives a hi-level delegation from Australia at its headquarters at Dubai Technopark.
Dubai, October 19, 2009: Pacific Controls Systems LLC, the leading global automation Company, today welcomed a hi-level delegation from Australia at their headquarters located at Dubai Technopark. The delegation was led by H.E. Mr. Jon Stanhope, ACT Chief Minister, Canberra, Australia. Mr Stanhope was accompanied by other senior government officials. During their stay in the UAE, the delegation had expressed interest to tour the regions first Platinum rated Green Building certified by US Green Building Council LEEDS program.
Commenting on the same, Mr Dilip Rahulan, Chairman and CEO, Pacific Controls said, It is an honor for us to welcome H.E. Mr. Stanhope and his team. We are glad that the headquarters of Pacific Controls today stands as an iconic building and is of interest to all. We often get requests from government delegations, schools in the UAE, corporate bodies from across the world, expressing interest to tour the building and understand its uniqueness.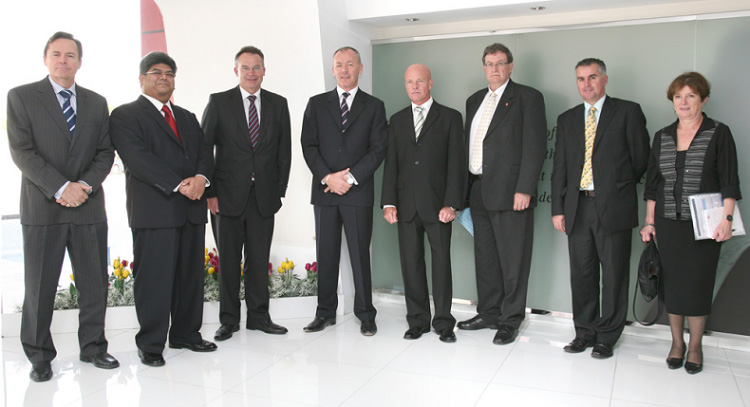 From L to R: Mr. Dilip Rahulan, CEO, Pacific Controls (second from left ) to H.E. Mr. Jon Stanhope - ACT Chief Minister (third from left), Canberra, Australia along with officials from ACT delegation and Pacific Controls. more photos...
Pacific Controls is an icon of sustainability in the Middle East. The first Platinum rated Green Building certified by US Green Building Council LEEDS program, is a sustainable, high performance building having significantly reduced the impact on Earths resources compared to conventional building.
Pacific Controls is providing global leadership in revolutionizing the way facilities and assets are managed through its internal programs and efforts on behalf of its customers, Pacific Controls is considered as one of the largest energy efficiency service provider in the Middle East.
Among its leading unique services, Pacific Controls offers 24x 7 Remote Monitoring, Energy Management, Continuous Building Commissioning, and Facilities Monitoring and Management services. Pacific Controls services are designed to lower building operating costs by monitoring and controlling energy-intensive systems, such as HVAC and lighting, which can be measured for optimum performance and predictive maintenance needs, reducing both energy usage and operating expense, using Pacific Controls software and hardware.
Pacific Controls not only has products and services for the whole range of control engineering but also offers the complete integration with the advantages of global networking capabilities. The company produces its own wired and wireless controllers and open software solutions supporting multiple protocols for communication between various devices connected to different networks. The hardware business, referred as connectivity products, includes specific remote products, gateway products, and meter reading products.
These products and solutions are designed to be part of the Smart Grid which is currently being deployed in Europe and North America. Our gateway products provide an open architecture for inclusion of sensors, actuators, smart meters and other devices, regardless of manufacturer and changes in technology. This is a key requirement for the Smart Grid implementation.
The gateway software application layer is the Local Energy Application (LEA), which is capable of interfacing to meters and other facility monitoring devices. The Local Energy Application is capable of providing a stand-alone energy monitoring system with real-time data capture, alarms, and historical data capture.
An enterprise software application designed and hosted by Pacific Controls at their Global Command Control Center (GCCC) is utilized to collect data from multiple sites where the LEA is utilized to collect information at the local facility. The GCCC is utilized to collect data into one central location for the purpose of in-depth energy analysis and comparison.
For further information, please contact:
Jumana Aman
Watermelon PR
Dubai, UAE
Ph: +971 4 2833655
Email: jumana@watermelonme.com