Press Releases
Pacific Controls launch Carbon Footprint measurement software for homes.
Dubai, March 3, 2009: The carbon footprint is a powerful tool to understand the impact of personal behaviour on global warming. Most people are shocked when they see the amount of CO2 their activities create! If you personally want to contribute to stop global warming, the calculation and constant monitoring of your personal carbon footprint is essential. The total amount of greenhouse gases produced to directly and indirectly support human activities, usually expressed in equivalent tons of carbon dioxide (CO2).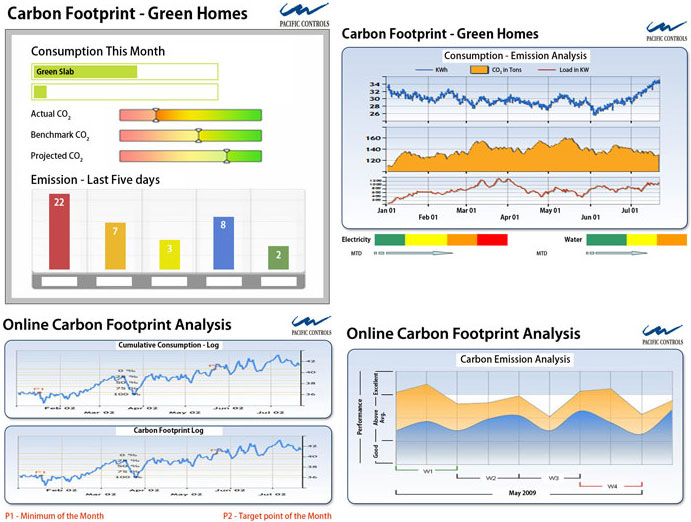 The developed solution accounts for carbon emissions from residences due to various house hold activities, varied lifestyles and energy consumptions in various forms.
The introduction and ratification of Kyoto Protocol by a number of countries on the issue of climate control has made countries to look at the issue of Environmental sustainability in a new light. Kyoto Protocol has opened the route for initiating sustainable development with an added dimension of commerce, thereby, making environmental conservation also a successful commercial model.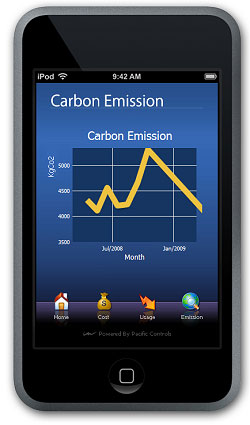 It was of utmost importance to develop a mechanism for accounting of Carbon Emissions starting from residential level. The traditional approach of accounting includes use of worksheets where data is collected manually. The data is then compiled and calculated to give you the amount of emissions as a whole. The process becomes tedious and there is high probability of error due to human interface.
Pacific Control Systems LLC has developed a potential application software that addresses and provide a definite amount of value add for it users. The application incorporates a number of technological advancements that makes the task of calculation of carbon footprint more streamlined and consistent.
With Pacific Controls smart metering technology homeowners will be able to monitor how much energy individual household devices use. The typical household has 27 devices that are continuously on, according to the Electric Power Research Institute, which means that even though you are adjusting your thermostat to save energy, and getting rid of all of your incandescent light bulbs, watching that new L.C.D. TV might wipe out all of your effort.
Nearly 70% of the average household utility bill could be influenced by Pacific Controls smart system to temperature and lighting. Homeowners can use the interactive energy management tools to create energy management profiles that are triggered by certain established consumption rates. As energy consumption exceeds a specific point, the system can automatically begin turning off low priority lighting, heating, and cooling zones.
An effortless way to green your home is to take control of your energy consumption by finding out exactly how much you are using. Armed with smart tools, you can measure how much electricity an item uses, or find out how much electricity your whole household uses. The application provides monitoring of cost of electricity usage as per laid down tariffs based on slabs or any other rate patterns such as peak rates and off-peak rates. Using appliances like washers, dryers, air conditioners and dishwashers during these off-peak hours can lead to substantial savings on your electricity bill, and you can use the system to confirm this. It can be programmed to reflect two rates one for off-peak periods and one for peak periods so you know how much money you are spending on electricity at any given time. Once you determine these facts, you can reduce usage or replace energy hogs with more efficient items. These real-time energy usage indices help you understand your habits and can get you to become more efficient with your energy consumption needs.
Incorporating Green Home Automation technology:
Pacific Controls implements Green Home Automation technology into new or existing structures which makes it easier to reduce energy consumption and the carbon footprint that your home creates. Pacific Controls offers energy saving smart lighting, HVAC and appliance controls, that turn lights, aircon, appliances and energy wasting loads off automatically. The system has a great impact on the energy usage too. Simply controlling curtains to block out the sun during peak periods has significant affect on your energy needs.
Real Time Automated data Collection:
The application collects real time energy consumption data from homes. This involves consumption of all forms of utilities including HVAC, Lighting, Home Appliances and smart metering. The system enables you to verify your energy profile, usage patterns, cost incurred and the carbon footprint of your home. The data is presented in a user friendly way in form of tables, graphs and charts.
Carbon Footprint on the cloud:
The system provided in the homes is totally web based and is accessible from anywhere anytime using the pervasive internet. Moreover, the system has the capability to collect data remotely for analyzing consumption patterns and Pacific Controls provide advisory services on how energy usage and carbon footprints within a home can be reduced.
Data Representation:
The data on carbon footprint and energy usage patterns are represented in the form of a graphical dashboard that can be viewed using any standard browser. Pacific Controls also provides such visualization on devices such as Iphone and itouch. A typical data visualization dashboard is shown below. The system offered has the capability to verify data right from year on year level to Month on Month level.
About Pacific Control Systems
Pacific Control Systems LLC is an ISO 9001:2000 company providing total automation solutions globally. Pacific Controls leads the industry in providing energy services using technology for sustainable development. The company offers a range of products and solutions that are internet ready and seamlessly integrates into existing IT infrastructure enabling global connectivity resulting in continuous energy management services. Information about Pacific Controls can be found at www.pacificcontrols.net
For further information, please contact:
Jumana Aman
Watermelon PR
Dubai, UAE
Ph: +971 4 2833655
Email: jumana@watermelonme.com