Press Releases
First LEED Platinum rated Green Building, in the Middle East, Inaugurated in Dubai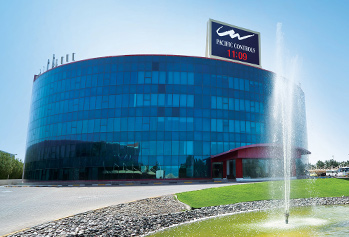 The headquarters of Pacific Controls is the first Platinum rated Green building in the Middle East and sixteenth in the world
Dubai, October 24, 2007: Pacific Control Systems, an Automation Company with operations around the world, today inaugurated its headquarters in Techno Park, Dubai. The headquarter building is the first Platinum rated green building accredited by the US Green Building Council (USGBC) Leadership in Energy and Environment Design (LEED) programme in the Middle East and sixteenth in the world.
H.E. Mohammad Al Gergawi, Minister of State for Cabinet Affairs of the Federal Government of the United Arab Emirates and Executive Chairman of Dubai Holding, inaugurated the building.
Mr.Jamal Majid Bin Thaniah,Vice Chairman of the Board of Ports and Free Zones,Group Chief Executive Officer Ports & Free Zone World & Vice Chairman DP World, Spoke during the occasion.
The inauguration event was also attended by Ms.Salma Hareb, CEO Jafza and Economic Zones World, Mr. Sami Dhaen Al Qamzi, Director General Department of Finance, Brigadier Rashid Thani Al Matroushi, Director of Dubai Civil Defence, Mr. Marwan Al Qamzi, Managing Director ,Dubai Waterfront and Jebal Ali Palm, Ahmed Abdul Hussain, CEO of EHS, Mr.Jamal Lootah, CEO Imdaad, and other senior officials and dignitaries.
Mr. Sandy Wiggins, Chairman, US Green Building Council, delivered the keynote address at the event.
Commenting on the inauguration of the headquarters, Mr. Dilip Rahulan, Chairman and CEO, Pacific Controls, said: We are proud to unveil our headquarters today. Our headquarter building is built in line with our commitment to the UAE governments drive towards achieving sustainable development in the region. It is our belief that our initiative will set a new benchmark for other green development projects in the UAE and elsewhere, demonstrating our commitment to environmental stewardship and Corporate social responsibility.
The award winning headquarter building has achieved LEED certification from the USGBC, accumulating a total of 55 points. The Green building has already won two international awards one at Boston in June 2007:as the Extreme Office Building in the world, Digie Award against Taipei 101 and Shanghai Financial Centre; and the Best Intelligent Building in the World in, Chicago Buildcon 2007.
In his concluding statement Mr. Dilip Rahulan, Chairman and CEO, Pacific Controls, announced that Pacific Controls is now looking beyond Platinum Green Buildings and will Pioneer the process of building the Worlds first "Living Building", as its Research and Development Centre in Dubai.
For further information please contact:
Beena Abraham
Corporate Communications
Pacific Control Systems LLC
Tel: +971 4 886 9000
Fax: +971 4 886 9001
Email: beena@pacificcontrols.net