Press Releases
Pacific Controls launches Dubai Ubiquitous City (U-City) at the Cityscape, Dubai 2006 exhibition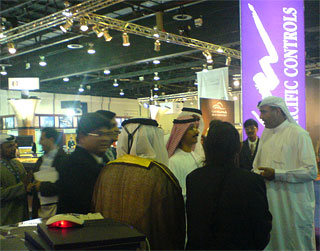 December 4, 2006: Pacific Control Systems (PCS), the global automation leader, has launched the Dubai Ubiquitous City (U-City) Project at the Cityscape, Dubai 2006 exhibition held between 4-6 December at the Dubai International Exhibition Centre.
Pacific Controls is in the forefront of U-City initiatives in the UAE helping to foster the interplay of people, technology and e- Governance, while the concept of U-City is still in its conceptualization stage.
Pacific Controls is taking leadership and mobilizing its resources and competency in developing Ubiquitous City technologies and is undertaking the implementation of U-City projects. The Dubai (U-City) initiative is currently taking center stage and enjoying strong support from the government and private sector, the buzz is definitely here to stay.
UAE has the potential in leading the way to building U-Cities, which will take on leadership around the world. UAE has been first in many things. It was one of the early adaptors of e-governance, its the first to use digital multimedia communication technology, its one of the pioneers of a cashless society, and now its again leading the pack in U-City.
Dubai (U-City) will be a showcase of the most sophisticated technologies available in the market such as the M2M ( Machine 2 Machine ) technology, radio frequency identification (RFID) systems, smart cards applications, geographic information systems (GIS), location based systems (LBS), sensor-based computing, wireless communication devices, home networking, digital multimedia broadcasting and video conference technologies, just to name a few. However, more than just being appealing to the senses, U-City encompasses its residents day-to-day living. It is the integration of technology, information services, and peoples lifestyles that is intended to make life more livable, safer, comfortable and convenient.
The scope of the project will be to construct, integrate and manage a ubiquitous computing infrastructure in Dubais Households, Schools, Educational Institutions, Hospitals, Private Offices, Financial Institutions, Government offices, Government infrastructure, like Airports, Sea Ports, Border Crossing, Roads Transport Authority, Civil Defence, Police, Immigration department, National Security etc. improving quality of life for residents and providing a highly-advanced digital environment for Corporate .
Pacific Controls will participate in creating a Dubai U-City development model that takes into account the overall process of constructing and operating a ubiquitous computing environment. Through organic connections to the City Command Control Center in charge of the integrated management and monitoring of diverse services, a wide range of services including facilities management, IT service, Security and Healthcare will be provided on a one-stop basis.
The Dubai U-city project will create employment and will act as a driving force to attract global IT companies to Dubai. It will contribute to positioning Dubai as a true IT power in the rapidly changing economic environment of The World.
"A number of companies will participate in creating the necessary IT infrastructure, developing the contents and systems for the Dubai U-City Project. The project will serve as a way to attract multinational corporations and foreign investment.", said Dilip Rahulan, Chairman & CEO, Pacific Control Systems. He further added, We are pleased to be working with Various Government Departments in UAE along with Cisco, Samsung SDS and Thales who are world leaders in deployment of Pervasive Internet.
About Pacific Controls:
Pacific Control Systems LLC is an ISO 9001:2000 company providing total automation solutions globally. Headquartered in Dubai, Pacific Controls has been involved in successfully implementing integrated automation solutions in over 3,000 projects in the Government and Private sectors. Pacific Controls adopts a concept-to-service approach in developing automation solutions that utilize the latest in Pervasive Internet applications and deployment of M2M technology covering a wide range of sectors Airport Automation, Oil and Gas sector, Commercial, Industrial, Home Infrastructure, Remote Monitoring, Energy Performance Contracting, Hospitality, and Integrated IP Security.
For further information please contact:
Beena Abraham
Corporate Communications
Pacific Control Systems LLC
Tel: +971 4 886 9000
Fax: +971 4 886 9001
Email: beena@pacificcontrols.net