Press Releases
Pacific Controls launches Wireless M2M solutions for Airports at the Airport Build & Supply 2006 exhibition
Dubai, June 6, 2006: Pacific Control Systems (PCS), the global automation leader, has launched its Machine-to-Machine (M2M) GPRS/EDGE/UMTS/HSDPA 24x7 Remote Monitoring Service (RMS) solutions for airports at the Airport Build & Supply 2006 exhibition held between 5-7 June at the Dubai Airport Expo. These Wireless M2M solutions enable device-to-enterprise connectivity via GPRS/EDGE/UMTS/HSDPA communication protocols that seamlessly integrate with various systems in an airport and bring them on a global data network, in real-time, for monitoring and controlling a complete range of airport operations and management functions. This real-time information capture and dissemination enable airports in increasing their operational efficiency through faster decision-making and improve customer services.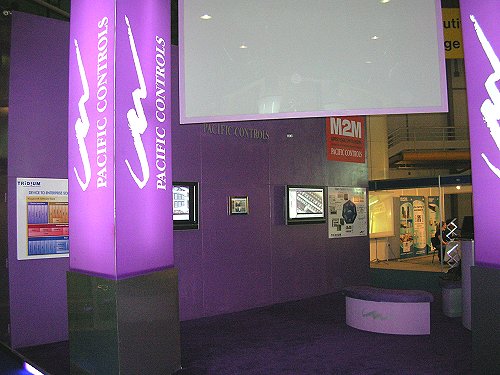 The Wireless M2M solutions for airports integrate with multiple airport systems and interface the data with the airports IT system/Management Information System (MIS) for monitoring and control functions including Airline Host Systems, Flight Information Display Systems, Baggage Handling System, Security Surveillance and Asset Tracking Systems, Gate Management Systems, Common User Terminal Equipment, (CUTE), Personnel Management Systems, Airport Operational Database (AODB), Billing and ERP systems, Crisis Control Centre applications, Public Address Systems, and Building Management Systems.
"We are happy to launch our Wireless M2M Solutions for airports in the Airport Build & Supply exhibition. Pacific Controls is currently pioneering the deployment of Wireless M2M solutions in the Middle East creating a new dimension for Connected Enterprise solutions," said Dilip Rahulan, Chairman and CEO, Pacific Control Systems. He further added, "The ability to network multiple "intelligent" machines and gather data on a real time, all time basis is a reality today. This connectivity to any system/equipment anywhere in the airport enables Airport Authorities to streamline operations and management, maximize efficiency, reduce resources usage, and improve services."
"Currently, we are involved in providing integrated solutions for Building Information Systems (BIS) at the Dubai International Airport (DIA), which is one of the largest systems integration projects in the Middle East. In this project, Pacific Controls uses advanced Enterprise Application Integration (EAI) methodologies such as message queuing and brokering to create powerful information integration networks between diverse systems on an open platform with diverse protocols," he added.
For further information please contact:
Beena Abraham
Corporate Communications
Pacific Control Systems LLC
Tel: +971 4 886 9000
Fax: +971 4 886 9001
Email: beena@pacificcontrols.net