Press Releases
Dubai youth participates in fund-raising Andes Trek sponsored by Pacific Controls
Dubai, October 13, 2005: Pacific Control Systems (PCS) recently sponsored a member of the trekking team, in aid of UK-based Brain & Spine Foundation, who successfully completed her trip across Peru to help in the fight against rising spine problems. Heather MacKenzie, a Dubai-youth working for Middle East Economic Digest (MEED) joined a group of 14 members in their walk through the Andes Mountains for a charitable cause of raising money for the foundation. The British 27-year old successfully raised nearly Dhs. 17,000 for the charity foundation.
Commenting on sponsoring a member of the team for charity, Dilip Rahulan, Chairman and CEO of Pacific Controls said, "This initiative of Pacific Controls is part of our Corporate Social Responsibility (CSR). We are quite happy that we were able to be a drop in an ocean by helping the foundation in raising some fund for people affected by brain and spine disorders. By sponsoring a Dubai-resident to take part in an international trekking event, we want to encourage and help youth to work for a social cause and be helpful to the society at large. This trek also helped in creating awareness among young people in the region to stay fit through a healthy lifestyle."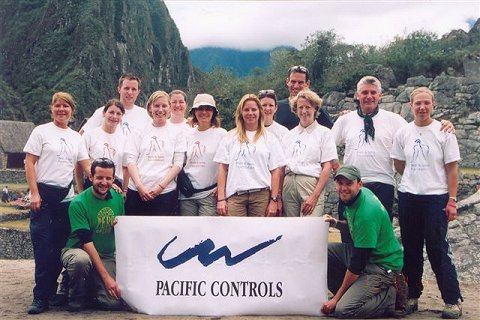 (Standing in front 5th from L to R) Heather MacKenzie, the Dubai-youth seen along with 13 other members of the trek team.
Commenting on Pacific Controls' involvement in Corporate Social Responsibility (CSR), Rahulan said, "As part of our Corporate Social Responsibility aimed at social, economic and environmental concerns, we care for the society's well-being and do our best to help. We associate our business with a cause that reflects the values of the company, and commit ourselves in playing an active role in participating and contributing to the society." "We encourage youth in their participation towards societal development initiatives and this trek is part of our CSR in addressing the total cross-section of the society," he further added.
The group had to trek that included hiking across and under glaciers and climbing the snow peaks of the Andes. The team members had exhaustive walking and climbing to altitude for up to 4,500 meters above sea level. While MacKenzie is from Dubai, the other members of the group are mostly from the United Kingdom who spent two days acclimatizing to the climatic and geographical conditions, before beginning their journey midway through September.
Talking about her trekking experience, MacKenzie said, "It was an excellent trip with spectacular view of the Andes, but it was definitely physically challenging – there was a lot of walking and we had to cope with snow, blizzards and some very cold conditions. One day of trekking had to be cancelled because an avalanche that blocked the pathway, which led us to be ferried to our next destination by coach instead."
Each morning the walkers would get up at 5 am before trekking for as long as nine hours. The group was accompanied by a Peruvian guide, a doctor, several cooks and mule handlers. "We had three days of solid rain and it made it difficult to walk up the steep passages as it was very slippery. We had to walk through the rough terrain and you really had to walk through it to appreciate it, and walking for 70 kms is hard work. I've got a lot of great memories, particularly of the local people whom I came upon isolated Andean villages. Overall, it was a fantastic experience and it is gratifying to know that we have also put something back into the community for a worthwhile cause," she concluded.
For further information please contact:
Beena Abraham
Corporate Communications
Pacific Control Systems LLC
Tel: +971 4 886 9000
Fax: +971 4 886 9001
Email: beena@pacificcontrols.net