Press Releases
Dubai's first Green Building aims for 'LEED' Platinum rating
Dubai, September 22, 2005: Pacific Control Systems (PCS), the global leader in automation solutions, has appointed the Confederation of Indian Industry's (CII) Green Building Business Center as consultants for LEED (Leadership in Energy and Environmental Design) rating of its headquarters building.
Pacific Controls is aspiring to achieve the Platinum rating for the Green Building under the LEED Certification Programme of United States Green Building Council (USGBC) based at Washington. With a built up area of over 120,000 sq. ft., the 5-storey Green Building coming up at the Dubai Techno Park is to have occupancy of over 400 employees.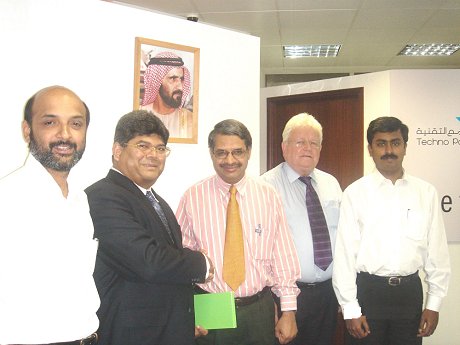 (2nd from Left) Dilip Rahulan, Chairman and CEO of Pacific Controls shakes hands with S. Srinivas, Senior Counsellor - LEED Accredited Professional, CII. Also seen in the picture are (Extreme Right) M Anand, Counsellor - LEED, CII; (2nd from Right) Nigel Mackenzie, Chief Technology Officer, Pacific Controls; and (Extreme Left) Arun Kumar Sekhar of Global Engineering Systems.
With an initial investment of Dhs. 25 million, this crescent-shaped building is to have a Research and Development (R&D) center, which will serve as the "Centre of Excellence" for automation business in the Middle East. The Centre will focus on developing state-of-the-art automation solutions and products for global markets. Apart from this, the building will house corporate offices and 24x7x365 days Central Command Control Center for the company.
Dilip Rahulan, Chairman and CEO of Pacific Control Systems said, "We are adopting an integrated design to maximize energy efficiency in our Green Building. We are using solar energy for the building's entire lighting needs and solar-thermal air-conditioning for its fresh air cooling requirements." He added, "It is Pacific Controls' Corporate Social Responsibility (CSR) to promote Green Buildings around the world. Our Green Building initiative is in line with our commitment to the Dubai Government's drive towards achieving sustainable environmental protection, and we fully support the Corporate Social Responsibility of the Government of UAE."
The CII, a non-Government organization, has been involved in offering similar Advisory services for 20 buildings in India, and has been instrumental in achieving Platinum rating for three of these buildings in the country. During his visit to Dubai to study the initial stage of Pacific Controls' Green Building design, S. Srinivas, Senior Counsellor - LEED Accredited Professional, Confederation of Indian Industry, said, "CII, with a team of LEED Accredited professionals, will be involved in providing Advisory services for Pacific Controls' Green Building project," adding, "While the key tangible benefits of this green building project is expected to benefit in terms of providing 35% savings in energy as compared to normal buildings, and about 40% savings in water consumption; the intangible benefits will be in terms of providing better indoor air quality, health and productivity."
"The environment-friendly design of Pacific Controls' Green Building will emphasize on the key features of sustainable site development, water and energy efficiency, recycled or recyclable materials selection and indoor air quality," pointed out Srinivas adding, "With the completion of this iconic project, Dubai will be seen on the international map of Green Buildings."
Some of the key features to be addressed in Pacific Controls' Green Building are soil erosion measures, water efficient equipment, solar-thermal air conditioning for fresh air requirements, high-efficiency chillers, solar photovoltaic for building lighting, state-of-the-art building management system, use of materials with high recycled content, variable speed drives for centrifugal fans and pumps, CO2 monitoring for indoor air quality, low volatile organic compounds (VOCs) in carpets, adhesives, sealants and paints and use of eco-friendly house-keeping chemicals.
For further information please contact:
Beena Abraham
Corporate Communications
Pacific Control Systems LLC
Tel: +971 4 886 9000
Fax: +971 4 886 9001
Email: beena@pacificcontrols.net