Press Releases
Pacific Solar launches Solar Energy Systems in the Middle East at the Nakheel Supplier's Expo 2005
Dubai, June 5, 2005: Pacific Solar (PS), a pioneer in providing solar energy systems and services globally, has announced the launch of its solar energy systems in the Middle East at the inaugural of the Nakheel Supplier's Exhibition & Seminar 2005. Nakheel, the host of the event, is the UAE's leading property developer that is involved in developing some of the iconic real estate projects in the Emirate.
PS has over 20 years of expertise and experience in handling solar energy systems covering the entire gamut of operations, from manufacturing to designing and installing these systems in buildings in the Commercial and Residential sectors.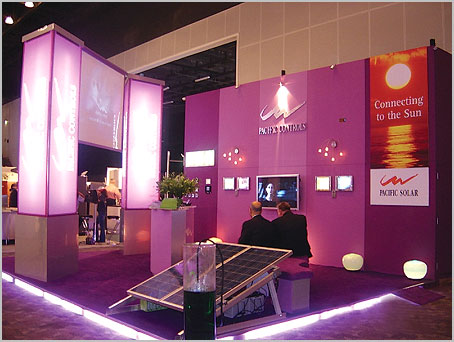 Pacific Solar has embarked on installing the solar energy systems for Pacific Control Systems LLC, a global leader providing total automation solutions in Commercial, Industrial and Home infrastructure automation projects.
"We are happy to launch our solar energy system in the region that commemorates with the World Environment week. We have made our entry into the Middle East market with our first project for Pacific Controls, and we hope to grab a major portion of the market share in the region for implementing our solar energy solutions," said Dilip Rahulan, CEO & Chairman, Pacific Controls Group. As part of its participation in the Dubai Government's "Green" initiatives, Pacific Control Systems is building the UAE's first "Green Building" with solar air-conditioning and solar lighting at the Techno Park, Dubai. The "Green Building" which is to become the regional headquarters for Pacific Controls will have solar panels installed by PS on its facade, which once operational, is expected to meet a sizable amount of the building's energy requirements for lighting purposes.
Commenting on the need to install solar energy systems in the region, Rahulan said, "Dubai is witnessing a boom in the construction and real estate industry. To cope with the escalating energy prices and the rising demand of energy requirements, it is imperative to incorporate solar energy based technologies and systems in buildings for a safe, reliable and clean form of energy which directly contributes to energy conservation and environment protection."
For further information please contact:
Beena Abraham
Corporate Communications
Pacific Control Systems LLC
Tel: +971 4 886 9000
Fax: +971 4 886 9001
Email: beena@pacificcontrols.net