Press Releases
Ministry of Social Affairs joins Emirates Energy Star Program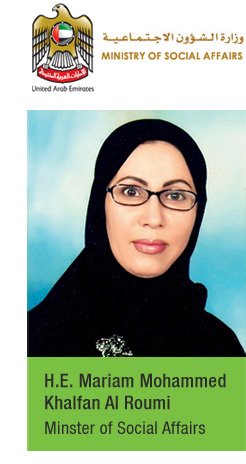 Ministry of Social Affairs joined Emirates Energy Star program in July, 2012 to be one of the first ministries to join this program after committed itself to reduce carbon emissions and energy consumption in its facilities.
Ministry of Social Affairs in collaboration with its strategic partner Etisalat and Pacific Controls issued a case study about energy saving and preservation of the environment to be a general culture adhered to by all citizens and residents of the UAE.
Maryam Alroomi, Minister of Social Affairs said that the accession of the ministry to the program comes in line with UAE's policy aimed at energy saving and maintaining the carbon footprint in the country and its commitment to the reduction of carbon emissions and energy consumption in its facilities at its main office in Dubai and at its centers in Ajman, Sharjah and Fujairah. In addition, the ministry is in the process of continuing the effort and commitment to this policy in all its institutions deployed in the emirates, numbering 46 institutions, in addition to the main ministry buildings in Dubai and Abu Dhabi.
She added that energy saving and environmental conservation supports achieving sustainable development, which is one of the basic objectives upon which the policy of the UAE, which is keen on saving energy and providing sources given their role in creating a clean and green environment.
Also she pointed out that the ministry has instructed its employees to conserve the consumption of electricity, water and paper. Also the ministry focused on recycling and all measures possible to reduce the energy consumption, and has implemented the initiative "green auspices" as part of its strategy for the years 2011-2013 and will continue this initiative for the third session strategy.
Alroomi said that the ministry when issuing this case study hopes that it will contribute to spreading an environmental awareness and energy conservation culture, and the reader finds all the means that describes how he himself and others can contribute in reducing the carbon footprint of the UAE.
Alroomi concluded that the ministry is in the process of adding a category to its "Al Namoos Award" concerned with preserving the environment, with a view to strengthening this approach, which aims to keep UAE proactive in all areas.
Al Khaleej
United Arab Emirates