Press Releases
Microsoft partners with Pacific Controls Cloud Services to provide robust, scalable cloud based solutions for enterprises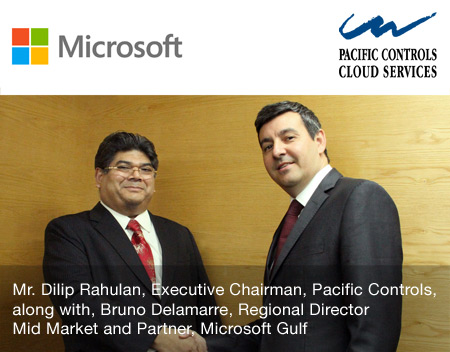 February 06, 2013, Dubai - Microsoft Corp has partnered with Pacific Controls Cloud Services(PCCS), the leading provider of Data Center Infrastructure Services and Cloud Services to customers globally, to provide highly customized and robust solutions to enterprises.
The PCCS is a wholly owned subsidiary of Pacific Controls, the leading global provider of ICT-enabled managed services and converged engineering solutions for buildings and infrastructure projects.
The PCCS services are hosted at its Uptime Institute-certified Tier III Data Center, located in Dubai Technopark. The facility is the largest Data Center campus of its kind in the Middle East.
The Service Provider License Agreement with Microsoft allows PCCS to license Microsoft products and to host software services and applications to its customers. The Agreement supports a variety of hosting scenarios to PCCS that offers highly-customized and robust solutions to a wide set of enterprise customers.
Commenting on the paong wieS seicrosle East.