IntelliCommand™ is a smart building management platform that offers 24-hour, seven days per week real-time remote facility monitoring and control across multiple locations, combined with the JLL integrated facilities management operations. Powered by Pacific Controls technology, the system includes continuous building commissioning, automatic work order generation, seamless smart grid integration and compatibility with all major brands of automated building system censors.
"Procter & Gamble is a pioneer in making its smart buildings even smarter," said Joe Stolarski, JLL's Global Account Executive for P&G. "This pilot program exemplifies P&G's leadership in applying innovation and advanced analytics to its real estate operations—just as in its products."
Watch our video to learn how IntelliCommand can help you achieve unprecedented efficiency and productivity across your portfolio.
Smart buildings, Smart people
In 2011, JLL proposed that P&G become the first company to test IntelliCommand, in support of the two companies' mutual goal of identifying innovative new approaches to achieving energy efficiency, cost savings and building performance management goals. P&G's immediate goal was to apply IntelliCommand's proprietary data analytics capabilities to inform its real estate decisions and produce significant energy cost savings within one year. The premise was that IntelliCommand's combination of cloud-based smart-building management technology with JLL's team of facilities management professionals would provide P&G with 24/7, real-time facilities management.
With these goals in mind, P&G deployed IntelliCommand across 12 buildings totalling 3.2 million square feet of real estate. The pilot sites included P&G's global headquarters campus in Cincinnati; its global healthcare headquarters facilities, including numerous laboratories; a key technical center; and a major mixed-used complex including offices and manufacturing operations.
Return on investment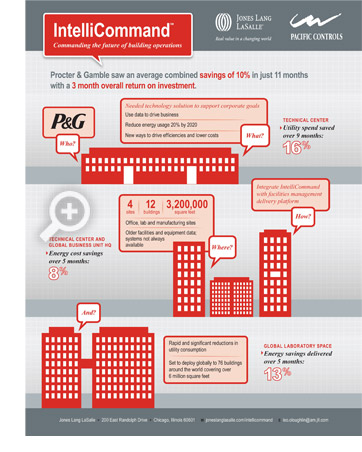 Where buildings may be "commissioned," or tested for maximum energy efficiency, every few years, IntelliCommand enables continuous commissioning and performance adjustments that would dramatically reduce energy consumption and costs.
In fact, within 11 months, P&G had achieved overall pilot portfolio savings of 10 percent, or 4,400,000 kilowatt hours—with the demonstrated potential to achieve additional savings. Results were particularly strong at P&G's technical center pilot site, where energy costs were reduced by 16 percent. Equally important, P&G's initial investment in the IntelliCommand deployment was returned in the first three months.
"P&G was able to achieve energy savings and performance improvements, even though some of the pilot facilities were older and did not feature fully-automated systems," said Dan Probst, JLL Chairman of Energy and Sustainability Services. "Smart buildings do not need to be new buildings."
"We are committed to becoming the most data-driven, technology-enabled company in the world, as well as one of the most sustainable, in every area of our operations—not just those that are consumer-facing," said Bridge. "IntelliCommand is helping us achieve our departmental goal of reducing our energy usage by 20 percent by 2020."
A leader in the real estate outsourcing field, Jones Lang LaSalle helps corporations improve productivity in the cost, efficiency and performance of their national, regional or global real estate portfolios by creating outsourcing partnerships to manage and execute a range of corporate real estate services. This service delivery capability helps corporations improve business performance, particularly as companies turn to the outsourcing of their real estate activity as a way to manage expenses and enhance profitability.
For more news, videos and research resources on Jones Lang LaSalle, please visit the firm's U.S. media center Web page. Bookmark it here:
http://www.us.am.joneslanglasalle.com/UnitedStates/EN-US/Pages/News.aspx
About Jones Lang LaSalle
Jones Lang LaSalle (NYSE: JLL) is a professional services and investment management firm offering specialized real estate services to clients seeking increased value by owning, occupying and investing in real estate. With annual revenue of $3.9 billion, Jones Lang LaSalle operates in 70 countries from more than 1,000 locations worldwide. On behalf of its clients, the firm provides management and real estate outsourcing services to a property portfolio of 2.6 billion square feet and completed $63 billion in sales, acquisitions and finance transactions in 2012. Its investment management business, LaSalle Investment Management, has $46.3 billion of real estate assets under management. For further information, visit www.jll.com.
Source: PR Newswire