Press Releases
Fire control system must in buildings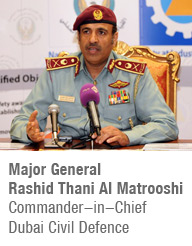 September 14, 2012, Dubai - Building completion certificates will not be issued for buildings other than traditional houses and villas unless the latest automatic fire control system is installed in them, Major General Rashid Thani Al Matrooshi, Commander-in-Chief of the Dubai Civil Defence Department, has said.
"All new buildings have installed the new system. The department will not tolerate any attempt to circumvent the requirement, as it concerns human lives," he reiterated. "No company will get the certificate without ensuring the suitability and efficient functioning of the new fire control system."
If the system breaks down or develops a glitch, it will automatically send a signal to the Operations Room of the Civil Defence and the defect will be repaired immediately. Civil Defence inspectors will make surprise visits to establishments and buildings throughout the year to ensure they are in compliance with the rule, he added.
The system had been installed in 32,171 buildings in Dubai till July this year.
It intervenes electronically and quickly in case of a fire breakout, a short circuit or gas or smoke emission depending oc ined./p>3trequirement, as it conce