Press Releases
Etisalat helps cut CO2 emissions
September 20, 2013: In the past 22 months, Etisalat has helped companies eliminate more than 23,000 tonnes of unnecessary CO2 emissions solely through monitoring, streamlining and reducing energy usage through heating, ventilation, and air conditioning (HVAC) to all EES participants within the UAE.
How has the telecoms giant, a corporation more associated with mobile phones and entertainment services such as eLife, made such savings possible? The answer lies in the world of M2M (Machine-to-Machine) technology.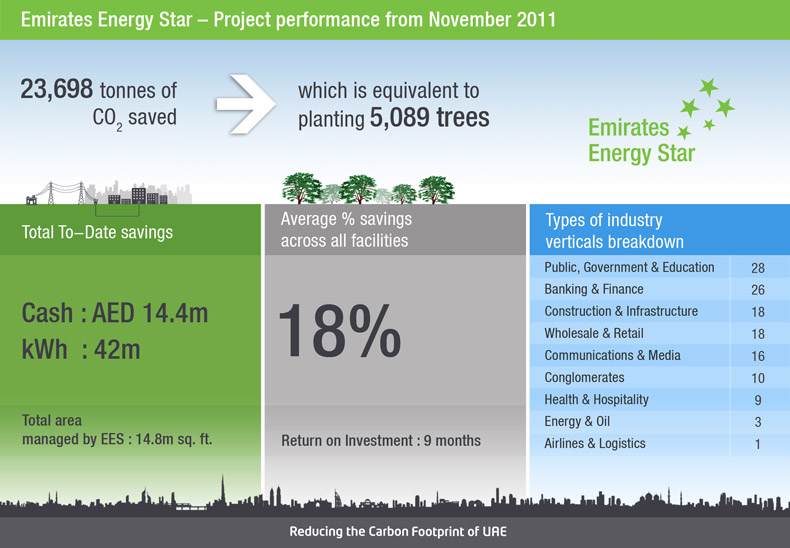 In the past, the Internet was something accessed on computers. With M2M technology, countless objects we use in our daily lives – from cars to air conditioning units – have a variety of sensors added to them and are connected to the Internet so that data on exactly when and how they are used can be recorded. The collection of this 'big data' that is key to how M2M works. It is from the data that user can examine their energy usage and streamline their consumption accordingly, eliminating waste and its associated costs from their carbon footprint.
According to a 2010 report by the World Wildlife Fund (WWF), the UAE had earned the unenviable distinction of having the largest carbon footprint in the world. Fortunately carbon footprint reduction is an area in which Etisalat has witnessed an impressive level of success in with its Emirates Energy Star (EES) initiative, a joint programme with Pacific Controls.
Many buildings in the UAE, particularly older office facilities, are extremely energy inefficient and contribute heavily to the UAE's carbon footprint. The EES programme involves retrofitting such buildings with M2M sensors and Managed Energy Monitoring Services.
The EES scheme enables participants, including various prominent private sector companies, banks and government departments from the UAE, to monitor and reduce their energy consumption, and therefore their carbon footprint, in real time. Currently, participants in the EES programme have saved 42 kWh of electricity, the equivalent of planting over 5,000 trees. They have also saved AED 14 million on their HVAC costs, receiving a return on their investment in M2M technology in an average of just nine months. The lesson to here is clear: reducing the carbon footprint of businesses leads to energy savings and reduced operational costs.
These efforts, combined with many other sustainability initiatives in the UAE, have already produced results: in the 2012 WWF Living Planet Report, the UAE had dropped two places to being the country with the third-highest carbon footprint behind Qatar and Kuwait.
It is not just from buildings that sustainable savings can be made. Etisalat's M2M-based fleet management solutions have enabled the waste management company Bee'ah to successfully monitor their vehicles' run time, idle time and stop time, as well as driver behaviour, all in real time, as it happens. This monitoring helped eliminate vehicle misuse and led to monthly savings of 20 per cent on fuel costs — which further reduced Bee'ah's carbon footprint.
As the rulers of the UAE increasingly advocate turning to technological solutions, from smarter cities, smarter business and ultimately smarter mGovernment to improve the country, big data M2M services offer a path to a more efficient, more sustainable future in the UAE.
According to Etisalat figures, the M2M market in the UAE is currently worth Dh200 million, a figure is set to rise as more and more companies and governmental organisations adopt and benefit from using such solutions in their daily business. By 2017, it is predicted that the UAE's M2M market will have tripled in size to a value of Dh600 million.
And Etisalat are not alone in realising the importance of this technology. Earlier this year the corporation joined with a variety of other global telecoms companies to participate in the M2M World Alliance, a group designed to ensure the deployment of a global hardware and software infrastructure to support global M2M programmes, including the M2M deployments in the automotive industry. The corporation is also due to host the region's first forum on M2M technology and services on September 22-23 at the Address Marina, Dubai.
It seems the region is waking up to a more sustainable M2M future and it is the UAE, and Etisalat, that are leading the way
Khaleej Times
United Arab Emirates