Press Releases
UAE: Emirates Energy Star project cuts energy consumption
72 buildings have signed up for scheme so far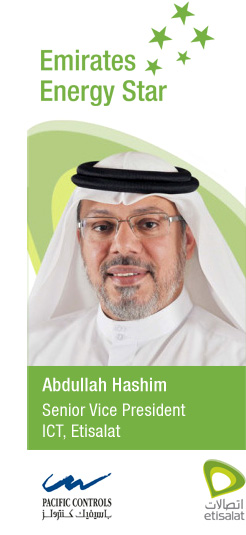 Abu Dhabi, June 22, 2013: SIM cards like the ones in our mobile phones are playing a major role in a national programme which cuts energy use in buildings — so far the plan has saved 10,741 tonnes of CO2 emissions, which is the equivalent of planting 2,306 trees.
Some 72 buildings, from government buildings to apartments and schools, have to date signed up for the Emirates Energy Star (EES) programme. Reports suggest that energy used to power buildings is responsible for 60 per cent of total world electricity consumption. Etisalat and Pacific Controls (a Dubai-based information and communications technology company) introduced the programme. Through Etisalat SIM cards, a Global Command Control Center (GCCC), assesses the electricity consumption of chillers and electronic devices used at those buildings.
A round-the-clock monitoring unit makes sure the savings are achieved.
EES is one the government's largest initiatives to battle the global concern of increasing carbon emissions and pollution. It has achieved 95 per cent of its target well before its 2015 time limit, a senior executive of the programme told Gulf News.
The programme, which originally aimed to reduce 20 per cent of energy consumed and the carbon footprint of all buildings under its scope by 2015, achieved a 19 per cent target by April this year, Abdullah Hashim, senior Vice-President, Information and Communication Technology (ICT), Etisalat, said.
It has resulted in a cash saving of Dh7.2 million for the UAE since its launch in December 2011 until April this year, he added.
"If the monitoring team see an unexpected hike in energy consumption from any device on any client they identify the cause, check any existing technical problems and alert the maintenance team," Hashim said.
The programme is being implemented under the patronage of the Ministry of Environment and Water and UNEP (United Nations Environment Programme).
EES also aims to enable the UAE government to be the first in the world to not only reduce carbon footprint but also monitor and report on its carbon footprint in real time, he said.
Gulf News
United Arab Emirates