Press Releases
Dilip Rahulan: 'Our vision stands validated'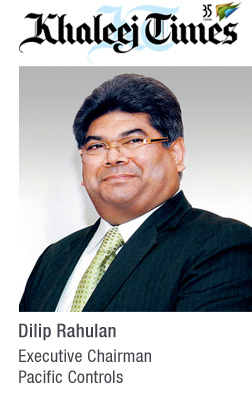 "Everything that we can see and use will be connected by the second half of this century," says Dilip Rahulan, executive chairman of Pacific Controls, in an interview. "Such a network will help create an environment that will facilitate easy, quick and a dynamic decision making process." Excerpts:
When did you come to Dubai and how difficult was it to start your business?
I came to Dubai in 1996. The process of setting up the business was very organised. We started in 2000 and Pacific Controls witnessed an organic growth in keeping with the opportunities in the market it's focused on.
Why did you choose Dubai to establish your business and how much has the emirates been a catalyst to the growth story?
The dynamics of real estate sector transformed Dubai though its economic competitiveness as well as sustainable technology in infra-development. Pacific Controls was able to embrace these radical changes and position itself as a smart technology solutions provider to both private and public sector projects.
This has been one of the enablers for our growth with a strongy infrstselwth with a sacific Control