Press Releases
Congratulations on winning M2M Awards
Dubai Civil Defence (DCD) has implemented the world's first award winning 24x7 national life safety program, using state of the art M2M technology.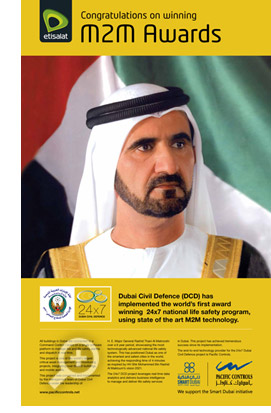 All buildings in Dubai are connected to a Command Control Centre on a single software platform to manage fire and life safety alarms and dispatch in real time. This project is one of the world's largest critical asset management and monitoring projects, integrating over 60,000 buildings and mobile assets. This project was conceived and implemented by the management team of Dubai Civil Defence under the leadership of H.E. Major General Rashid Thani Al Matrooshi over a 6 year period, showcasing the most technologically advanced national life safety system. This has positioned Dubai as one of the smartest and safest cities in the world, achieving the responding time of 4 minutes as inspired by HH Sheikh Mohammed Bin Rashid Al Maktoum's vision 2021.
The 24x7 DCD project leverages real time data analytics and delivers business intelligence to manage and deliver life safety services in Dubai. This project has achieved tremendous success since its implementation.
The end-to-end technology provider for the 24x7 Dubai Civil Defence project is Pacific Controls.