Press Releases
Arabian Business lists Mr. Dilip Rahulan among 100 most powerful Indians in the Gulf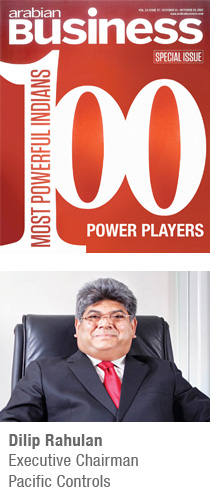 The essential guide to the most influential movers and shakers in the Indian expatriate community.
In this Arabian Business Special Issue, the most powerful Indians in the region were rated. The publication judged power as influence and how much impact the actions of one person can have on others.
Gulf Indians in all walks of life - from retail to industry, from science to philanthropy and from arts to sports, were considered and ranked. For six months, researchers had a series of meetings to whittle down from nearly 700 names on the database. They brought the number down to 200 and the final 100 confirmed in September. Rankings from 11 to 100 were selected by the editorial team. The top ten were voted by each member of the team in order of personal preference, on a point rated system.
Indian expatriates who have helped make the Gulf what it is today are not only shaping the future of this region, but are helping the Indian economy as well. Billions of dollars make their way back home to India every year from NRIs all over the world, but the tax-free and business-friendly Gulf region plays an especially important part in boosting the sub continental market.
Dilip Rahulan founded Pacific Controls in Australia in 1984 before expanding the company to Dubai. Rahulan is known as something of a champion of green and energy efficient buildings; Pacific Controls' UAE headquarters was awarded the honour of becoming the Middle East's first platinum-rated green building by the US Green Building Council and Leadership in Energy and Environmental Design. In July, the firm signed an agreement with Saudi telco Mobily to jointly offer machine-to-machine energy management solutions for vertical industry sectors in Saudi Arabia.