Press Releases
National Bank of Fujairah spearheads Dhs265m syndication for Pacific Control Systems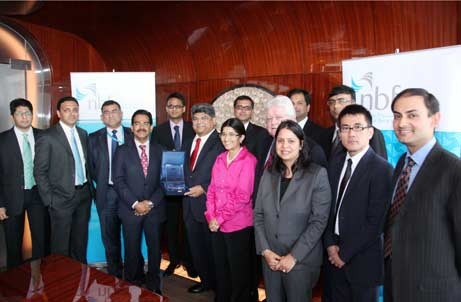 May 7, 2012, Dubai - The National Bank of Fujairah (NBF) announced that it has closed a Dhs265m syndicated loan for Pacific Control Systems (PCS). The Bank acted as the Mandated Lead Arranger, Bookrunner and Underwriter for the facility.
This is a debut syndicated financing facility for PCS, the leading global provider of ICT enabled services and converged engineering solutions for buildings and infrastructure projects. PCS will use the loan, co-financed by Lead Arrangers Bank of Baroda and Ajman Bank, for the development of a data and disaster recovery centre in Dubai. The centre, one of the largest in the region, will also provide cloud computing services.
NBF CEO Vince Cook said that the successful syndication is evidence of the Bank's position as partner-of-choice for companies venturing into the regional debt capital markets: "That we were entrusted with overseeing PCS's first multilateral deal reflects the customer's confidence in the Bank and our ability to utilise regional banking relationships to our clients' advantage. We are pleased to be able to support PCS in its future plans and would also like to thank the participating banks for their support."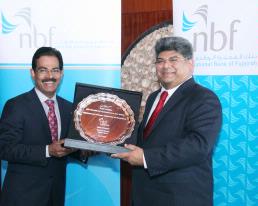 PCS Executive Chairman Dilip Rahulan said, "We are proud to introduce the concept of Data Center Campuses in this region. Pacific Controls has always strived to create new benchmarks in the industry. Our first Data Center Campus has been certified T3 by the Uptime Institute for sustainability and operational efficiency. As a market leader keen on taking this industry to greater heights, we are pleased to find a progressive-minded partner in the form of NBF to support us in our aspirations. We would also like to thank Bank of Baroda and Ajman Bank for demonstrating a high degree of confidence in PCS's management and the company's growth plans."
AMEinfo.com
Middle East
Other press reports:
Gulf News
http://gulfnews.com/business/banking/data-and-recovery-centre-for-dubai-1.1019166
Zawya
http://www.zawya.com/story/ZAWYA20120506121719/National-Bank-of-Fujairah-spearheads-AED-265-million-syndication-for-Pacific-Control-Systems/
MEED
http://www.meed.com/national-bank-of-fujairah-spearheads-dhs265m-syndication-for-pacific-control-systems/3136541.article
Dallasnews.com
http://topics.dallasnews.com/article/0clrc2AanWfkv
Arabic newspapers
Al Khaleej, Al Watan, Al Bayan, Al Ittihad, Emarat Al Youm, Alrroya Al Eqtissadiya, Al Wahda, Al Fajr