Press Releases
60,000 buildings to be connected online through Etisalat for risk detection

Abu Dhabi, July 8, 2011: About 60,000 residential and commercial buildings will go online by mid 2013 through Etisalat for fire and other hazardous detections to help provide quick safety response.
The new technology that involves a triangle between a Dubai-based technology solution services company Pacific Control Systems, the General Directorate of Civil Defence and Etisalat was introduced in 2008.

"We have already brought 30,000 buildings online in Dubai through Etisalat. It is a very effective and fastest safety alarm system that improves response time to tackle fires and other harmful incidents. We have installed a machine-to-machine (M2M) device in these building that detect fires and other dangerous incidents," Nigel MacKenzie, Business Development Manager and Chief Technical Officer at Pacific Controls told Khaleej Times on the sideline of the Fire Safety Technology Forum UAE held in the capital on Thursday.
According to him, the technology works for all kinds of incidents in addition to fire alarm, such as elevator malfunctioning, water and gas leakages and electric short-circuits. The system also uses 3G and 2G, GPRS, GPS and other technologies to detect hazards and help rush concern safety teams from the Civil Defence without losing any time.

MacKenzie further added: "We are in a public-private-partnership with the local authorities to implement the project. We have been installing the system connecting with Etisalat and the Civil Defence with 80 to 100 buildings connected a month. Implementation started in the third quarter of 2008 and within five years 60,000 buildings will be connected."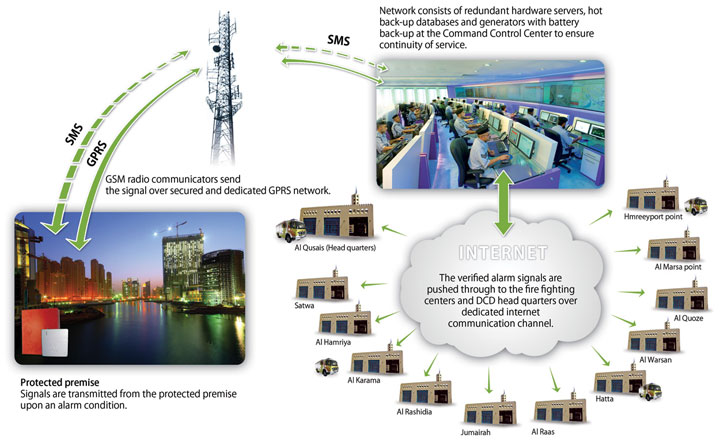 He also said the system works 24 hours a day throughout the week with the buildings connected with Civil Defence operation rooms and their vehicles for the swift action. "We have an intelligent Command Control Center with 35 operators working 24 hours in shifts to receive fire and other incident reports through our backbone Etisalat network system. Once we get a report, we immediately filter it through immediate queries from building managements. If not false alarm, we inform the nearest Civil Defence stations and their vehicles are in the network," he explained.
Nissar Hoath
Khaleej Times
Dubai, United Arab Emirates