Press Releases
Al Khaliji partners with NBF for landmark structured finance deal for Pacific Controls
Al Khalij Commercial Bank (al khaliji) QSC, Qatar's next generation bank, along with National Bank of Fujairah (NBF) has announced the successful closing of a landmark transaction for, Pacific Controls, a pioneer of IoT (Internet of Things) and an international ICT (Information and Communication Technology) player, during a commemorative lunch ceremony recently held in Dubai.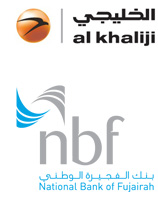 Dubai, May 24, 2015: Partnering with the NBF, al khaliji acted as underwriter and mandated lead arranger on a highly successful syndicated term finance facility of AED 750 million for Pacific Controls. Owing to a highly effective sell down and syndication strategy, for which NBF Capital - NBF's fully-owned subsidiary - acted as Bookrunners whereas al khaliji and NBF were the underwriters - the deal received an oversubscription of 33 percent, amounting to AED 1 billion in total commitments from the mandated lead arrangers and a syndicate of banks including Al Khaliji France SA, Dubai Islamic Bank, United Arab Bank, Ajman Bank, Sharjah Islamic Bank and National Bank of Oman. This syndication, combination of conventional and Islamic financing, is the second to be successfully closed for Pacific Controls over the past three years.
"We have repeatedly proven our ability to integrate our operations, expertise, offering diversity and sophisticated solutions to serve both our clients seamlessly and efficiently. As we continue to actively map out and identify opportunities in Qatar and the GCC loan and syndication market, we are confident that this transaction will be one of many major deals al khaliji will undertake. We congratulate Pacific Controls on a highly successful transaction that supports their strategic growth plans", said Mr. Fahad Al Khalifa, al khaliji Group CEO.
Al Khaliji's role in this transaction stems from its belief in Pacific Controls' potential as not only a solid corporate client with an impressive track record and international growth prospects, but also, as a partner with whom the bank shares strong beliefs and vision.
Pacific Controls is one of the "50 Most Promising IoT Technology companies" according to CIO review magazine, driving innovation in tech and forward-thinking sustainable solutions; areas in which al khaliji is heavily investing in as it takes its next generation banking position to the next level.
Press reports: